February 17, 2023
The USDA and Food Service Providers are Taking a Positive Step Forward for School Meals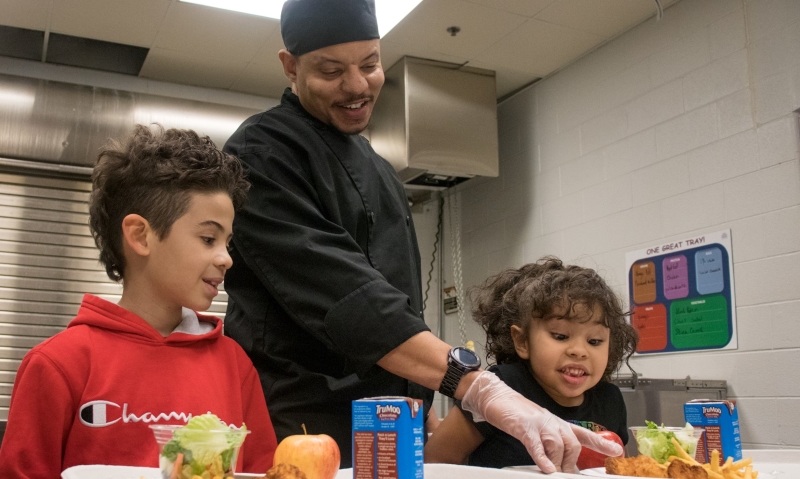 We know that kids receive a significant proportion of their daily calories from school meals, which shows just how important school meal programs are. Ask any teacher. They know that too many students come to class hungry, facing a barrier to learning that no child should experience.
Schools have been doing great work, while school food service professionals navigated near-impossible situations during COVID and kept our kids fed. And to support this work, fortunately, there are national nutrition standards that continue to evolve and improve.
Recently, the USDA issued proposed new guidelines to update nutrition standards for schools, aligning them further with the latest research findings in nutrition science. Proposed guidelines include a gradual decrease in the amount of added sugars and salt in prepared foods, prioritizing the use of whole grains when grains are used in meals, and strengthening the ability of schools to use more locally grown and culturally appropriate foods. These changes are to be implemented over three years, to allow children's palettes to adjust to more nutritious foods—and to allow the school system to gradually implement the standards.
We applaud the USDA's efforts, alongside so much innovative work growing from the 2022 White House Conference on Hunger, Nutrition, and Health—the first such gathering in over 50 years.
"Nourishing meals are a critically important school supply," says Curt Ellis, CEO and co-founder of FoodCorps. "We know that school meals shape how students feel, how they learn, and how they grow. Implementing changes to these programs takes champions from across the school community coming together around a shared purpose of health, education, and joy."
This "top-down" approach from the USDA is a good thing.
But change on this level would not be happening without the national efforts by school food service providers. They've been taking a "bottom-up" approach—working alongside administrators and organizations, like our grantee partners Food Research and Action Center and FoodCorps, as well as engaging in grassroots community efforts to enhance nutrition for kids in schools.
Newman's Own Foundation, in 2022, issued a request for proposals to surface and support other inspired and innovative local efforts. The resulting proposals represented some of the best work being done on the local level, from Corvallis, Oregon, to Newark, New Jersey. Greater Newark Conservancy, for example, operates the state's largest urban farm and Newark's first environmental center, which has been visited by more than 34,000 youth.
In business, it's often acknowledged that real systemic change can happen only if it flows both from the top to the bottom and the bottom to the top. The same is true anywhere, frankly, and we are seeing that in school food and childhood nutrition. Sound, evidence-based guidelines alongside innovative work at the local and regional level by those on the frontline continue to make a difference in the lives of our children. Let's keep it up.