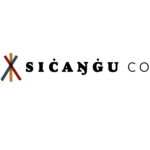 Sicangu Community Development Corporation
Working towards Wicozani, or "the good way of life" for the Siċaŋġu Oyate.

Food security for a sovereign tribal nation
Located on the Rosebud Reservation in Mission, South Dakota, Sicangu works to create systems that are community-driven and grounded in its Lakota values—building holistic health, economic self-sufficiency, cultural revitalization, sustainable housing, food sovereignty, climate resilience, and shared, lasting prosperity.
Visit sicangu.co
THE MISSION
Reconnecting with culture
Through programs like the Home Garden Project and Watakuye Youth Camps, Sicangu Community Development increases food security for youth while making access to nutritious food more convenient for their community.
The Home Garden Project provides nutritious food to families by aiding them in growing and harvesting home gardens. The Watakuye Youth Camps aim to help Sicangu youth reconnect with themselves, their identities and their culture.
These projects provide youth with the skills and resources to advocate for themselves when it comes to their food and what they eat, while reinvigorating interest in and access to culturally relevant foods that will nourish bodies, minds, and spirits.
Learn more about Sicangu Community Development Corporation
GET INVOLVED
Support Sicangu Community Development Corporation
Donations help to nurture current and future generations.
More amazing organizations
Check out these other programs that support children in need.